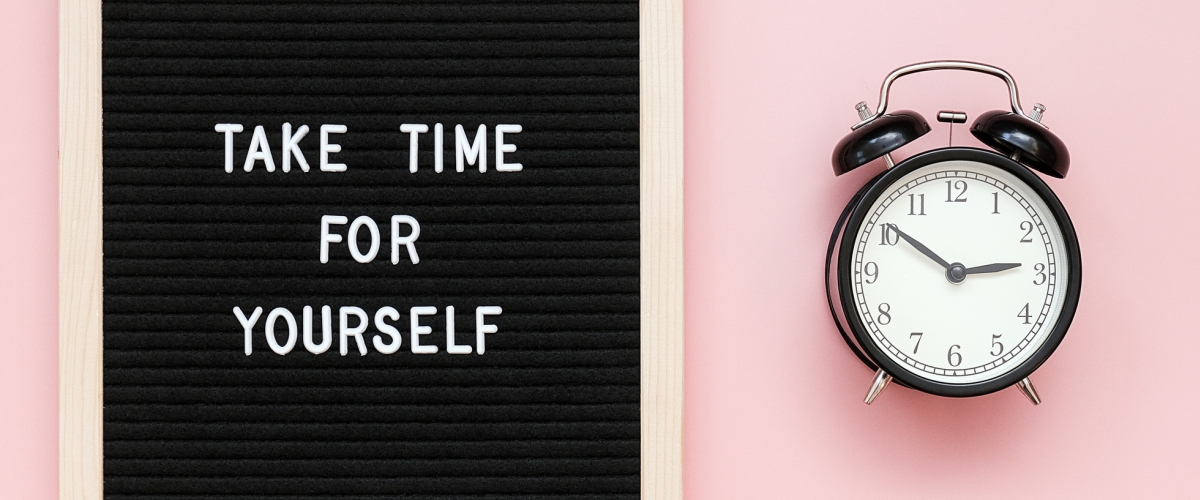 Before reading this blog post, pause. Unclench your jaw. Sit up straight. Roll your shoulders down your back. Inhale to fill. Exhale to empty. Proceed.
If you needed that, you are not alone. As week six of Governor Gretchen Whitmer's Stay Home, Stay Safe order continues in Michigan, toilet paper rations are low, emotions are high and some of us are one Zoom unmute away from losing it. In all seriousness, we as a society are collectively reaching an understandable level of weariness. Now more than ever it's important to prioritize mental health. 
A helpful concept I learned from my own time in therapy is the oxygen mask metaphor, which feels odd and poignant in a different way with constant talk of ventilators and shortness of breath surrounding us. When preparing for takeoff on an airplane, flight attendants walk travelers through protocol. In the case of an emergency, caretakers are instructed to put their own oxygen mask on first before assisting children and those they are caring for. We need to help ourselves in order to show up as the most helpful parents, employees, friends and humans for others. 
As a new member of the P&G team, I quickly learned this company profusely values mental health and self care—a value I deeply align with. Founder and Principal Strategist Kate Snyder is first to point out the mountains of scientific evidence proving employees are more productive, meet deadlines and stay with companies longer when mental health is prioritized (and I just frickin' love her for that). We talk about therapy and what we learned in it -- no need to "hide" our appointments on our calendars or label them in some form of code. We share our therapists best tips with each other, and often start a day with, "I just finished therapy so I'm feeling great."
I'm here to tell you to put your oxygen mask on, and don't be ashamed about it. If you're wondering how to do that safely and affordably in the middle of a global pandemic, here are some tools and resources. 
Reach out for help
The recent adaption to telemedicine has created opportunities to receive professional help in the comfort of your own home. Many organizations are working to provide free or inexpensive services to people in need. Check with your insurance provider to explore coverage of in-network providers in your city.
Open Path Collective is a nonprofit committed to providing therapy sessions between $30 - $60 (current market rates are $80-$200) for people who do not have health care or whose health care doesn't provide mental health resources. 
Talkspace provides clients with 24/7 access to a therapist through video chat and messaging. Clients pay a weekly fee of $65 and can message their therapist at any point throughout the day as many times as needed. The licensed therapist responds to messages up to twice per day and if more conversation is needed, a video chat can be scheduled. The site is currently offering $65 off with code APPLY65.   
Therapy Den matches clients with therapists specialized in a specific topic or challenge to properly address concerns about body image, grief, job stress, pregnancy, adverse childhood experiences and trauma, substance use disorders and LGBTQ+ among others. Best of all, it's free.
BetterHelp uses an assessment to match clients with the counselor that best fits their needs. This platform is strictly virtual allowing for clients to be connected to their therapist via video, phone or messaging. Keep in mind that when shelter-in-places lift, this service will remain virtual. It costs $35 - $70 per week, with an upfront cost of $260.  
We encourage you to pursue traditional therapy too! Check with your insurance provider to explore coverage of in-network providers in your city.
Check-in with employee assistance programs 
Many companies provide an employee assistance program or EAP, a voluntary program that offers free and confidential assessments, short-term counseling, referrals and follow-up services to employees who are facing personal and professional challenges. EAPs address a broad and complex body of issues affecting mental and emotional well-being, such as alcohol including substance use disorders (SUDs), stress, grief and overall health. Ask your employer about its EAP. If a global pandemic doesn't warrant needing some extra support, what does?!? 
Use technology to better your brain 
For many of us, looking at screens is unavoidable. So we might as well send a little love to ourselves and use our devices for good. Here are simple ways to get a serotonin boost via phone or laptop each day.  
Whether you're a P&G client, friend, colleague, alumni, neighbor or you somehow stumbled across this blog post on the internet - we see your struggle and you are not alone. Use these tools to put your own oxygen mask on before you help the person next to you.