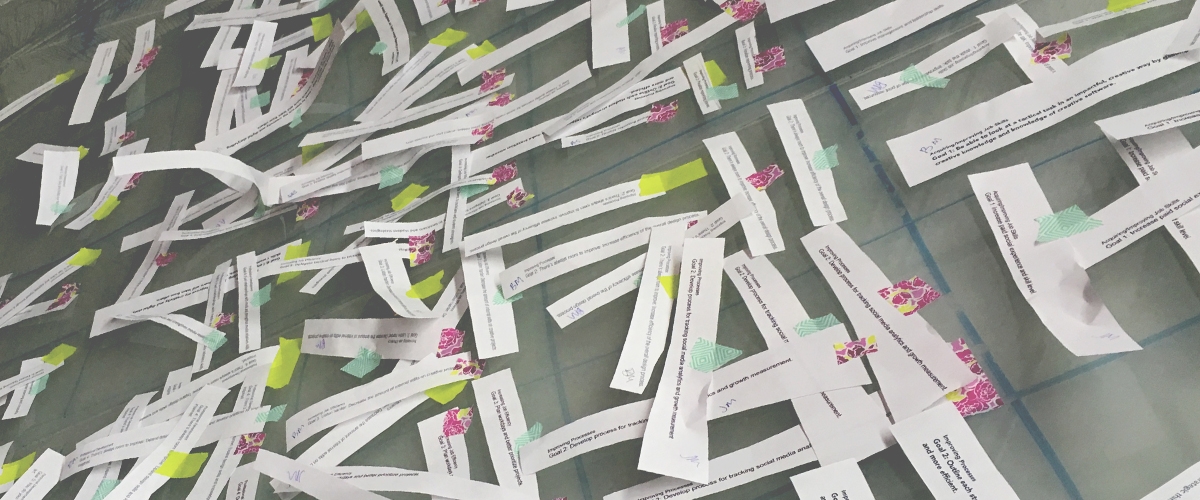 Earlier this week, the P&G family gathered to spend the day talking about our work, our goals and our company. It was an exciting, motivating, tiring and thoughtful day, rooted in our #Truths.
Over the past few months, we've shared these #Truths with you. They're the guiding principles that reflect our personalities, our values and our motivations.
Our #Truths are our whys – WHY do we do what we do? Because we believe words have power, and we want to use that power for good. Because we believe story is at the heart of the human connection and we are storytellers who can help change attitudes, opinions and behaviors.
WHY do we work where we work? Because we want to do big work in a small community, where we can connect people, places and organizations to make an even greater impact than they could alone. Because we believe in Lansing and in Michigan. Because we want to be a part of more than just a company, but a family.
HOW do we interact every day? By living what we preach and giving back, living with integrity. By listening, showing gratitude and making order out of chaos. By having hard but meaningful conversations and by celebrating our successes, but constantly striving for the next evolution.
And at the foundation of all of this is, perhaps, my favorite #truth (though it's hard to pick just one): You do you.
When I started to build Piper & Gold, I knew I was good at public relations. I knew I took fulfillment out of meaningful work that helped shape our community and support its people.
But as I've built this company, I've come to realize that MY motivation starts with this team. I've spent my entire career working to grow, strengthen and improve my community. I'm never going to stop doing that. But with this family, the P&G family, I've been given the opportunity and privilege to help grow, strengthen and improve these unique individuals – to challenge them, support them, guide them and learn from them. To create with them the kind of place where each individual's strengths – both professionally and personally – are allowed to shine. Where their quirks are celebrated and become the endearing traits that bond us all together. Where the birthday cakes are a ridiculous testament to the personal nature of our human connection.
At the retreat Monday, we started the day envisioning what our communities – Greater Lansing, Michigan, the arts, economic development, education, our region's natural resources, philanthropy, health, workforce development, LGBTQ and more – could look like in five years.
We asked what would transformation look like? What would it look like if these were thriving vibrant people, places, organizations, movements? What does it mean to transform, to thrive? And most importantly, what role can WE play in bringing about this change?
That's our mission – public relations that moves our communities forward.
Hearing these smart, passionate, fierce people talk about the changes they want to make – they intend to make – filled me with pride, excitement and motivation.
It's been a long, tumultuous slog for many these past weeks and months, myself included. But I'm committed to living my #Truths. And I'm ready to help make good on the vision this family has put into words, to help them reach their goals.
That's my why. What's yours?