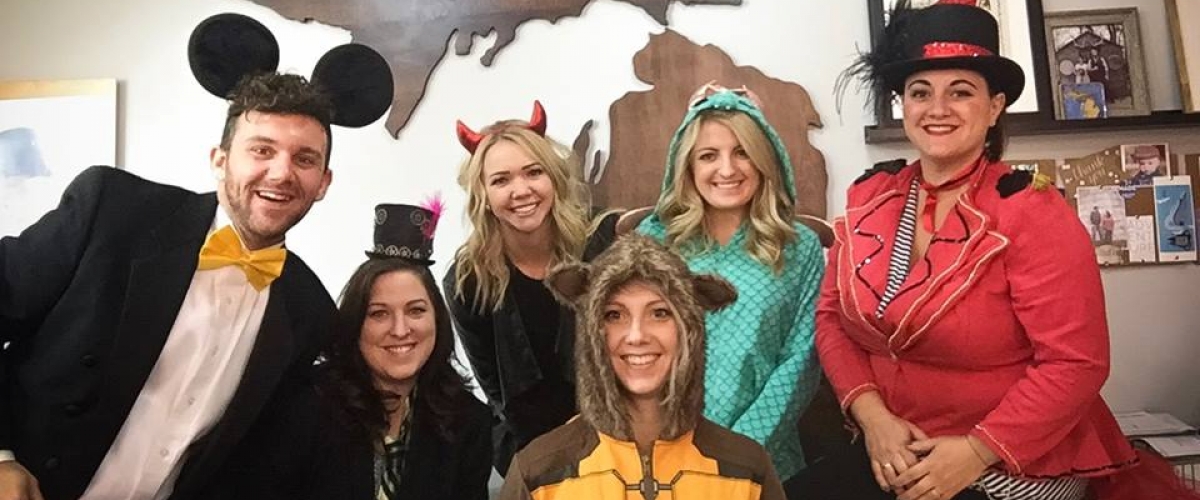 Sometimes it takes a party.
Nov 22, 2017
Category: P&G culture
I love parties. More specifically, I love confetti (but that's another post entirely). Here at P&G, we celebrate a lot...cake for every birthday, costume contest for Halloween, donuts because it's Tuesday. We take fun pretty seriously. Why, you ask? Because fun.
Yep, that's it. We have fun because it's fun. In the crazy world of public relations, it's easy to keep your head down and focused on the never-ending list of tasks to accomplish. Don't get me wrong – we love what we do and are 100% committed to delivering excellence to our clients. But that's why creating a culture of fun is so important. It's disarming, it boosts morale and reminds us that, first and foremost, we're a team. We can't deliver quality service to our clients if we aren't our best selves.
A couple weeks ago was Halloween and a few days prior I asked some of our team if they were planning to dress up for work. They said no, they hadn't planned on it. After I recovered from a moment of shock, I proposed that we have a Halloween party (plus I wanted to come to work dressed as Mickey Mouse, but that's beside the point). And then we did. On October 31, we transformed into Piper & GHOULd for the day and celebrated with a costume contest, candy and lots of laughs. It was the best day ever! I mean, what's not to love about passing a dragon on your way to the copy machine or having a meeting with the Mad Hatter?
Here are some ways we incorporate fun into our culture (and you should too!):
Birthdays – This one is a no-brainer. Everyone has a birthday, so why not celebrate it?! We always have cake, and it's always ridiculous. There was even a poop emoji cake once. If an entire cake isn't an option, make cupcakes, grab some party hats at Target and throw confetti on every surface around. It's easy and it makes your team members feel so special!
 
Holidays – We just finished decorating for the holidays and it looks like a fairy exploded in our office. There is glitter everywhere, and we absolutely love the extra sparkle it gives to our work environment! We are also taking the afternoon off the day before we close for the holidays to celebrate together. Unfortunately I can't give any details on that because our team might be reading this, BUT in the past we have participated in a baking class, bowling, you get the idea.
 
Team Building – Every month we take time to get out of the office and have fun as a team. The activities that are chosen always tie back to one of our #Truths and have included things like yoga, a pottery class, pedicures and countless other outings. It can be as simple as a picnic outside or as big as a day at a theme park. It's important to get to know each other outside the daily grind, so make time for it!
 
Random – There's a tiny gold dinosaur that lives in our office and we take turns hiding him in random places, just because it's fun to open the snack box and see a T-rex peeking out at you from behind the Cheetos.
There are so many moments (and ways) to celebrate, so put your party pants on and think about some ways to incorporate fun into your team culture. Trust me, you won't regret it!