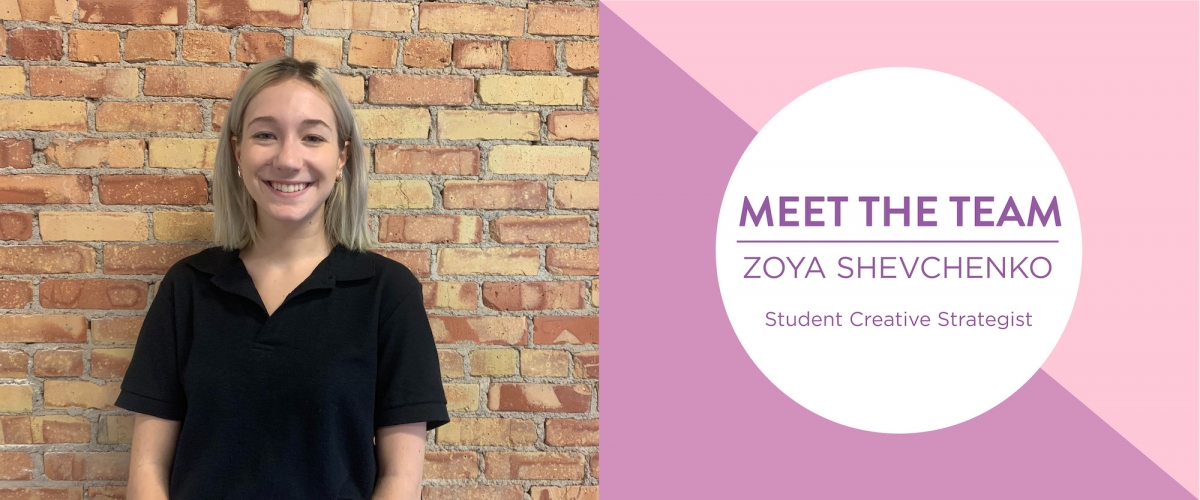 Meet the Team: Zoya Shevchenko, Student Creative Strategist
Feb 18, 2020
Category: What's new
We are thrilled to welcome our newest member to the P&G fam: Zoya Shevchenko, Student Creative Strategist. 
Zoya Shevchenko thrives off of good design, good company, and a good laugh. Serving as a student creative strategist for Piper and Gold has granted her the opportunity to channel her artistic abilities while being surrounded by alike-vibed and lively girl-squad.
Zoya has created work ranging from music promotional designs to content for Michigan State University's College of Social Science. She loves designing best when she is left completely to her own imagination and ideas, and she finds great joy in seeing her thoughts come to life visually. Zoya was especially excited to contribute to Piper & Gold's community-centered projects, as these are a way to incorporate her love for design into meaningful work.
Zoya spends her days at P&G designing social media graphics and drafting and editing visual content for clients. In the few weeks, she has been on the team, she already has created a handful of flyers, ads, and even revamped a P&G sticker design.
As a student at Michigan State University, Zoya has devoted time to various extracurricular groups including VIM Magazine, IMPACT radio station, and ASMSU student government, and she belongs to a research group called Social Science Scholars. She is currently co-writing a research paper on Desensitization to Media and Tragedies that is set to be published in the Social Science Scholars research book within the next year. In her free time, Zoya loves spending time on Pinterest and Behance, watching movies, and taking photos of her friends.