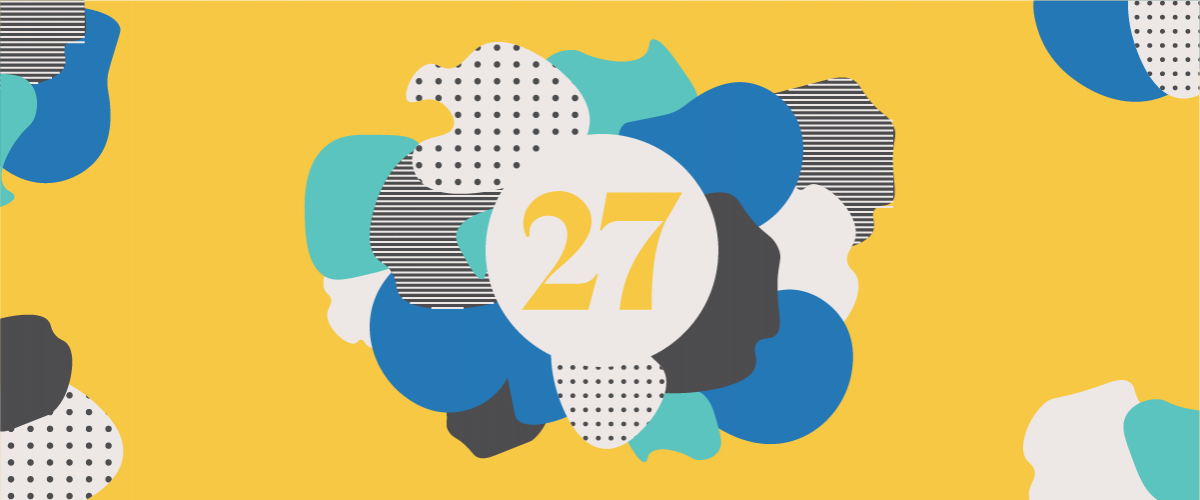 One of my favorite things about being a designer is how fast this industry changes. Each day there are emerging trends, new ways to connect and communicate with an audience, and there are infinite color and typeface combinations. Pressure to stay relevant as a designer can be overwhelming if you let it.
Challenges offer us opportunities to be creative and innovative. With that in mind — and sticking with our monthly theme to #EmbraceNumbers — here are two articles plus seven follow-worthy accounts (because, let's be real, 27 of anything is just too much) to keep the creative juices flowing.
2 articles
1. Top 5 Graphic Design Trends of 2019
After years of avoiding gradients like the plague I welcome them with open arms in 2019, along with bold, vintage-inspired palettes, organic brushstrokes and three-dimensional typography. 
2. 50 of the best graphic design blogs for inspiration
This website provides resources, perspective, inspiration and insight covering a wide range of topics such as menu design, inclusivity in design and women in graphic design.
The inspiration x 7
1. @pasta_nick – Nick Jacoy
If you aren't already, you need to follow Nick Jacoy on Instagram. He is a master of the pen tool and an illustration wizard. He shows his process from sketch to finish with engaging, time-lapse videos. His methodical use of line weights, colors and shapes create beautifully simplistic graphics. 
2. @pantone – Pantone
This one is a classic. Pantone has been the queen of color for almost 60 years, but the Instagram page encompasses every facet of design. From monochromatic design to watercolors to gummy bear color matching. It is aesthetically pleasing and creativity-sparking content. 
3. @laineymay – Lainey Yehl
I have to give a shoutout to my favorite local illustrator. Is this weird because we've never met? Probably, but she is a brilliant illustrator, designer and visual storyteller with an incredible, unique style. I envy her mastery of hand lettering and typography. You can see all her work at laineyyehl.com or in Metro Parent magazine and at Fresh Thyme in East Lansing. 
4. @deekaymotion – DeeKay
Admittedly, the animation world is mostly uncharted territory for me. However, the little I do know is due in large part to following DeeKay. Each animated video is followed with a behind-the-scenes tutorial that takes you on a journey from preliminary sketches and program choice all the way to the finished animation. DeeKay is an illustrator and animator in New York City, and he is very encouraging to viewers that mastering Adobe After Effects is simply a matter of time, practice and patience.
5. @bestfolios – bestfolios.com
Resumes and cover letters are not really my idea of fun, but they are so important. Bestfolios is a great resource for functional design pieces. They feature resumes, cover letters, portfolio and case study examples from student, intern, mid- and senior- level designers at companies such as Microsoft, Dropbox, Airbnb and more. Their feed is not "pretty," but the content is linked in their bio and always worth a read! 
6. @accidentallywesanderson – Wally Koval
Inspired by the visual style of Wes Anderson films, Wally Koval and his wife, Amanda, run @accidentallywesanderson. They comb through photographic submissions and curate captions to match, bringing us a beautiful collection of photographic inspiration from all over the world.  
7. @jessicavwalsh – Jessica V. Walsh
I definitely saved the best for last here. If you don't know Jessica Walsh, she is a graphic designer, illustrator, art director, co-founder of Sagmeister & Walsh and all around badass. She's interned under Paula Scher, founded Ladies, Wine & Design (@ladieswinedesign) which empowers women to be allies instead of competitors in design, and she conducted a hilarious and wonderful social experiment with Timothy Goodman called "40 Days of Dating." Her design style is unique, inspiring and sometimes absurd, but unquestionably brilliant. I could go on forever about Jessica Walsh, so just give her a follow you'll see what I mean. 
Needless to say it was difficult to narrow this list down to just nine. We are fortunate to live in a world where inspiration and design knowledge is at our fingertips, largely cost-free. Who or what do you draw inspiration from? Share some of your favorite accounts, blogs or articles with us.
Hilary Edwards
Creative Strategist