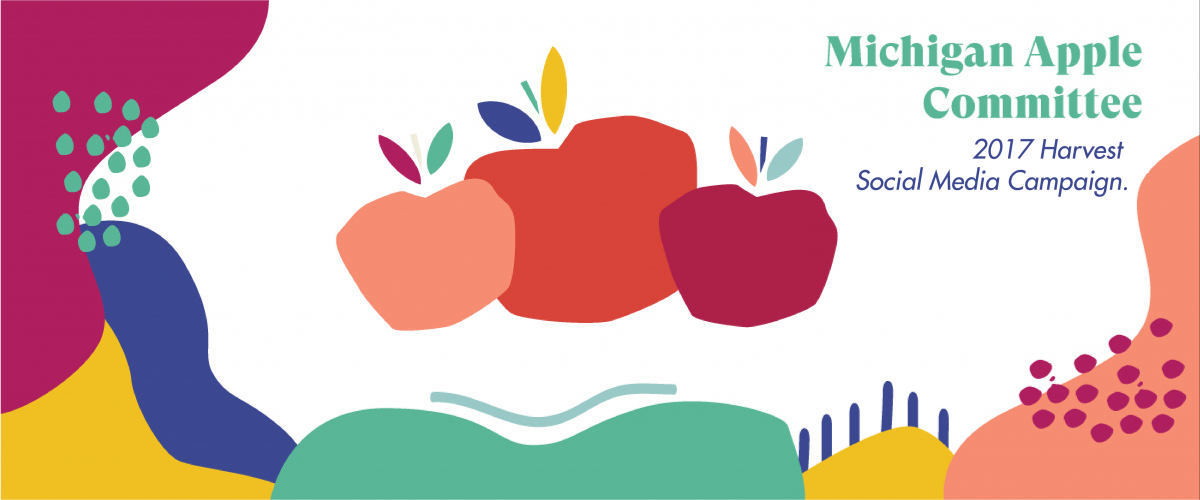 Beyond the Bling is a blog series that shares an inside look into our award-winning work. As a part of our #EmpoweringEducation theme, we are highlighting our work with the Michigan Apple Committee for its 2017 harvest campaign, because education and apples just go hand in hand.
Client: Michigan Apple Committee  
Campaign: 2017 Traditions Harvest Social Media Campaign
Awards:
Social Media Marketing Campaign, Award of Excellence, PACE Awards 

Traditional Social Media Campaign, Platinum Award, MarCom Awards 
Snapshot: 
As the nation's third largest producer of apples, Michigan is passionate about apples. Growers pride themselves on a rich heritage of producing an array of fine apple varieties. The Michigan Apple Committee represents these growers and works tirelessly to make Michigan apples a staple in homes across the nation.
In 2017, the Michigan Apple Committee sought to update their social media outreach efforts, understanding their target audience to be highly active on and influenced by social media. Enter Piper & Gold Public Relations.
We developed the Michigan Apples "Traditions" campaign in an effort to get more apples into more homes by promoting the fruit throughout its harvest season. Inspired by Michigan Apples' deep roots in tradition, the campaign paid tribute to the history of the apple by incorporating tie-ins to famous children's stories, scientific experiments, family legacies and the apple's role at different stages of a person's life. We implemented a robust social media engagement campaign to educate target audiences about Michigan apples and how to find them in stores.
Research/background: 
We began by getting to know Michigan Apples' top competitors, revealing that the Michigan Apple Committee already was on the right track, with an extensive social media following and significant engagement, especially when compared to the other top states. The question then became how to leverage this existing network and love for the brand.
Next, our team participated in an elaborate brainstorming session. Our senior strategist led the creative and tactical team through a series of questions to get at the core (ha!) of what apples mean to people, to families, to communities. Concepts included "apples throughout our lives," with the intent of sharing the science and legacy of apple growing to foster lifelong consumer relationships with apples; "Michigan apple pride," positioning Michigan apples as unique and the best due to Michigan's climate; and, finally "apples in stories and slang," highlighting apples as the main character in many of our favorite stories.
Ultimately, we landed on a blend of the three concepts, pursuing a "Traditions" theme, focusing on family, heritage, making memories and apples as a part of everyone's story. This theme was applied to a full visual campaign, paired with a social media content calendar.
Planning and Execution: 
Target audience: 
Women age 25-55 on Facebook, Twitter and Instagram. 

Michigan Apple Committee members and growers. 

Statewide and national agricultural partners. 

Food and beverage influencers.
Objective one: Increase the number of consumers who purchase Michigan apples. 
We developed and implemented a social media campaign and schedule, including paid social media and mobile advertising, including Google Ad Words, Facebook and Instagram ads.
Objective two: Increase Michigan apple consumer engagement. 
We researched and developed a campaign theme that resonated with the target audience and encouraged engagement across the target social channels, including campaign tagline and design mood boards, and we implemented the campaign elements in carefully crafted social media posts and images.
Evaluation
Objective one: Increase the number of consumers who purchase Michigan apples. Neilsen reports that in 2017, $54,705,062 of apples were sold, compared to 2015, where $23,595,016 of apples were sold. Diane Smith, executive director of the Michigan Apple Committee, said she believes the "Traditions" campaign has a strong correlation to the increase in sales.
Objective two: Increase Michigan apple consumer engagement. 
Holy moly, did we engage. On Facebook alone, there was an increase of over 1,000 likes. Twitter picked up 81 new followers. Our highest post reach on Facebook hit over 100,000 people on several occasions and hovered between 40,000 and 60,000 consistently throughout the campaign. Advertising dollars played a significant role in this reach, but the engagement is really what stands out. Folks were keen to share the posts, as well as consistently comment on posts, expressing how much they loved Michigan apples, where they bought Michigan apples or how Michigan apples were part of their family traditions. We think the comments speak for themselves ...
"I have SO many GREAT memories of baking with my mom."

"We had apple trees in our backyard when I was small. Mom made apple pies every year. When I got my first Easy Bake Oven, I baked apples in it with sugar and cinnamon! I try to make even better memories with my grandsons, have them in the kitchen every chance I get! They enjoy it and I hope they always do!"

"Wonderful memories of fall, visiting orchard shops, great cups of coffee, family cook-outs on crisp Sunday mornings at MI parks, homemade donuts, Halloween celebrating and family together - great memories ..."

"Me and my eldest granddaughter bake cakes, cupcakes & cookies together. I use to bake with my grandson's too - great memories."

"I need to buy some next week at the farmers market for apple crisp and apple salad."

"A healthy break while driving enjoying MI beautiful fall was AMISH CHEESE and HONEYCRISP APPLES ⁠— stopped at a farm along the way!"

"I eat about 3-4 daily. Honeycrisp. Wish I could eat them 365 days a year."

"Honeycrisp! We drive from southeastern Indiana every year to bring back a carload to share with friends and family!
"The 'Traditions' campaign has worked well for us online," Smith said. "With Piper & Gold's help, we have been able to use compelling imagery and copy to tap into the fondness consumers have for the tradition, as well as the experience of apple consumption here in Michigan. We have seen growth across all our social media platforms, and have engaged with new and existing followers through the campaign."