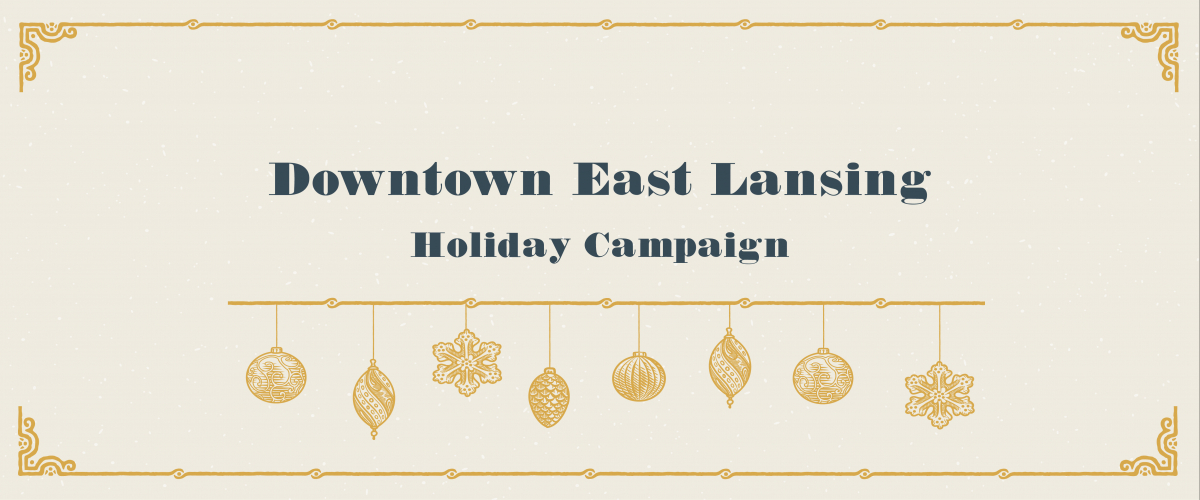 For many people, being home for the holidays means cherishing every moment at home and spending time with the people you love. But what if your home is in complete disarray and disorder from construction? This was exactly the problem Downtown East Lansing faced.  
Beyond the Bling is a blog series that shares an inside look into our award-winning work. In the spirit of Christmas in July, today we're spotlighting our partnership with Downtown East Lansing for the Holiday 2018 Campaign. The campaign, "We're worth it," focused on increasing visitors to the downtown shopping district  despite the chaos from construction, driving detours and a perceived lack of parking.
Client: Downtown East Lansing
Campaign: Downtown East Lansing Holiday Campaign: We're worth it.
Awards: 
Social Media Campaign, Bronze Award, Addy Awards 
​Public Relations/Communications, Platinum Award, Hermes Awards 
Snapshot
It's no secret: Construction sucks. Well, what it builds or fixes is great, but the inconvenience of enduring the process is a big fat pain. And if you think it's bad for shoppers, it's often worse for business owners. Add in the holiday season, and you have all the excitement of a melting snowball. 
The City of East Lansing's Downtown Management Board, also called Downtown East Lansing, engaged our help to develop a social media holiday campaign to drive traffic to downtown businesses. But we knew it was bigger than that – we needed to respond to the anger and frustration people shared on social media about trying to visit downtown East Lansing amid the construction. An enormous project blocked streets, closed sidewalks and generally made it challenging to shop during the most wonderful time of the year. The best part: They were open to snark, sass and realness in the messaging.
We couldn't wait to help.
Research/background
While it's great the city is undergoing some major new developments that will attract new residents and businesses, it wasn't making holiday shopping easy.
To ensure messaging was on point in a freakishly fast timeline (we had about two weeks to research, develop and deploy the campaign) we analyzed public comments on social media posts from the city, DDA and individual business social media channels, and we recorded the depth of people's frustration. We also scoured the comments section and social media comments of a local citizen journalism page, EastLansingInfo.com. 
People were stressed. They didn't know where to park. They weren't sure what was open. Students from Michigan State University – right across from the main commercial district – didn't feel loyal enough to the merchants to warrant the challenge of literally crossing the street. Not exactly a welcoming atmosphere.
Based on what we saw, we proposed a cheeky, honest, candid approach to combat the online complaining. We dug into pages of comments, listing out the pain points that kept repeating, and we came up with a plan – and messages – to help everyone feel heard and to drive visitors back to a downtown in disarray.
Planning
Our approach focused on social media messaging that emphasized supporting local and downtown East Lansing business, with candid language surrounding the challenges of construction as identified by the pain point analysis, and how and why East Lansing businesses needed support. We knew we needed to remind people that behind these businesses are people. And if we want to keep local restaurants, shops and more open for business, we need to support them. 
We targeted different audiences ages 20 to 65-plus in a 25-mile radius of East Lansing, with a focus on:
Women ages 30 to 50, based on research into demographics likely to shop local.
"Foodies" for restaurant and bar posts.
​Michigan State University students directly across the street.
At the center of the campaign messaging was parodying common holiday tunes to convey the importance of shopping local, while mixing in some photography-based posts to break up graphics content and support engagement.
Messages were designed to speak directly to our key audiences for the downtown district, and ads and boosted posts were aimed at different demographics:
Students: "Procrastinating studying? It's cool. Come procrastinate with us. Downtown East Lansing. We have food, drinks and retail therapy. What more could a procrastinator want?"
Women 30-50: "All I want for Christmas is a construction crane to entertain my children for a few minutes."
​Foodies: "Is it your turn to host New Year's? Don't fret! Our shops and restaurants have been there, done that, and they know how to make sure everyone is happy with your holiday decor and snacks."
We worked to be inclusive to non-Christmas shoppers (being certain to vet to ensure we weren't putting out culturally offensive messaging) with a bit of, "Detour, detour, detour, I made you out of … a genuine desire to strengthen our downtown. Shop EL this holiday to keep it that way during construction."
We also developed a series of anticipated questions and complaints based on our research, and we created approved responses team members could reference for replies when the inevitable haters came out to hate.
Execution
We drafted, designed and scheduled posts and ads, and we boosted, then monitored the comments and interactions with the posts. We responded on behalf of our client in a unified (while real and cheeky) voice. GIFs became a primary communication vehicle. There was even a little #Whammageddon.
We fielded a number of less-than-impressed Facebook comments and tried to reply with a bit of cheek without making people feel they weren't being heard. A feller with a block M profile pic (deep in the heart of Spartan country – for you non-Big Ten-ers, this is a rivalry to end all rivalries) commented, "Parking is too much. And too much of an inconvenience. And to close to little brother LOL." Them's fighting words, but we kept our cool. 
"Downtown EL has given downtown merchants hundreds of parking validations to offset the cost of parking for customers. I know the changes are inconvenient but we DO still have plenty of parking, we promise: https://www.cityofeastlansing.com/318/Parking-Downtown. I hope you'll find the slight inconvenience of an extra walk or a different spot worth it to support downtown EL businesses. Now about that OTHER comment, I can't help you out with that one. :D"
We also armed local business owners with the tools to spread the word, consistent with the campaign's tone. We shared a promotional toolkit for businesses, incorporating all the resources we created for the city's use. The toolkit acknowledged that business owners were likely too busy to add more marketing to their plates, so it made the process easy and conquerable, with plug-and-play content.
Evaluation
People on social media were pleasantly surprised that the city was responding and listening. They felt heard.
After asking, "Still charging exorbitant rates for parking?" one commenter simply replied "Wow!!!" and hearted the posts explaining the measures being taken to make parking easier and cheaper during construction. We took that as a win. <3
Facebook posts appeared between Dec. 11 and Jan. 1, and the campaign's reach was over 104,000, with nearly 300,000 impressions. Peak interaction – just like last-minute holiday shopping – came between Dec. 20-23.
Happily, the bulk of the people who saw and interacted with the posts were from Lansing – more than 18,000 people – not East Lansing residents. That showed us we were reaching an audience that might not automatically think to choose downtown East Lansing to shop.
Instagram and Twitter served as secondary platforms for the campaign, as the main criticism was occurring on Facebook. Campaign posts on Instagram garnered 1,148 likes, and Twitter had more than 22,000 organic impressions and an engagement rate of 505. The campaign yielded the highest interaction the Downtown East Lansing accounts had ever seen.
"We loved the tone of the 2018 #WorthItEL Holiday Campaign," said Chanelle Crouch, chair of the East Lansing Downtown Management Board. "We partnered with Piper & Gold to address the exciting yet sometimes frustrating realities that downtown redevelopment can have on patrons and neighbor businesses. The sing-song nature of the campaign seemed to get everyone into the holiday spirit!  I mean, as a mom of two young children, who doesn't want to laugh at lyrics like 'All I want for Christmas is for the construction crane to entertain my toddler for a few minutes'?"