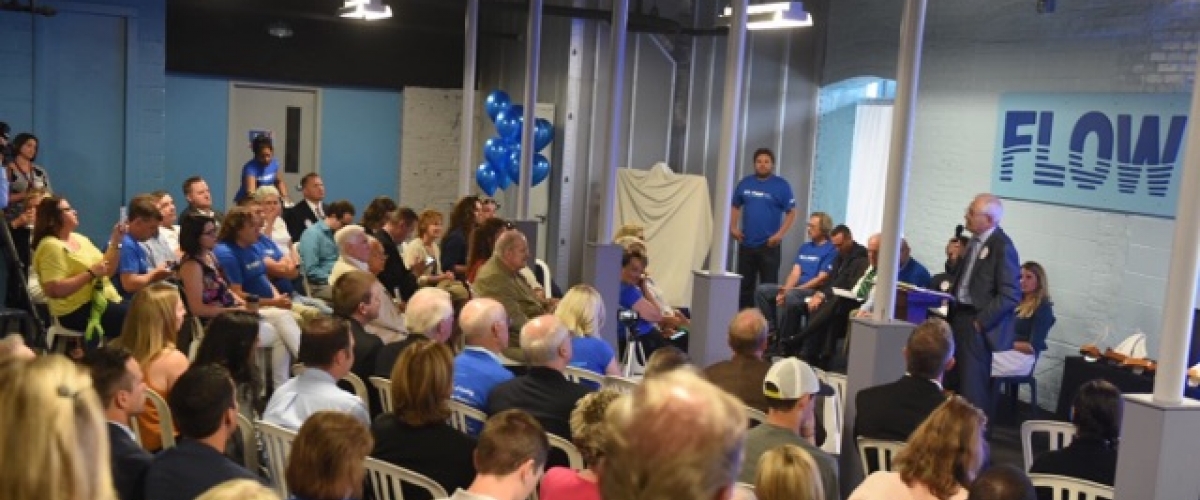 Occasionally there are moments when you know you are a part of something significant and special. Today we're taking a look back at the award-winning grand opening media event that we produced for our friends at Impression 5 Science Center...what an incredible day it was!
Client: Impression 5 Science Center
Campaign: FLOW: A Water Experience Grand Opening Media Event
Snapshot
In June of 2017, Impression 5 Science Center opened the largest single-exhibit investment in the science center's history. FLOW: A Water Exhibit was designed to allow families to explore the science of fluid dynamics with two floors of interactive components and activities. P&G was hired to produce the grand opening media event.
Not only would this event showcase the new two-floor water room, but it would celebrate that the exhibit was housed in a whole new space. The project was a culmination of more than $600,000 in investments from multiple organizations in greater Lansing and served as an example of what the community can accomplish when it comes together. This would be a significant moment in the history of Impression 5, and we wanted to leverage that timing to accomplish our goal of building stronger relationships with the exhibit sponsors and increasing attendance at the science center.
But we wanted to do more than that … we wanted to create an experience as unique as the exhibit itself.
Strategy & planning
We began by visiting the space to get a feel for what could be accomplished. At the time it was little more than concrete floors, walls that were painted blue and various pieces of equipment that would soon come alive - just add water! Although the space was impressive, we had to use our imagination to envision what the finished product would be. Just as the name of the exhibit signifies, we wanted the feel of the environment and schedule of events to be very fluid and smooth.
Once we knew what the space looked like, our team reconvened for an ideation session to brainstorm creative ideas for the look of the physical space, the unveiling of the exhibit and ways to highlight sponsors. Since we were producing an event for a children's science center, we participated in a word-association activity that encouraged us to remember our childhood experiences with water. Out of this session came the decision to use fun elements such as balloons (to resemble bubbles and water droplets), sailboats (using printed sails to recognize sponsors) and flowing fabric (projected with moving lighting to resemble flowing water).
Once our plan was in place, we got to work on the logistics of pulling together the many elements that made this event such a success!
Media relations and event planning
Our primary target audiences for the FLOW event were local media, as well as major sponsors: Rotary Club of Lansing and individual Rotarians, Consumers Energy Foundation, PNC Grow Up Great, Joe D. Pentecost Foundation and Michigan Council for Arts and Cultural Affairs. Others in attendance would include Impression 5's board of directors, City of Lansing and Downtown Lansing stakeholders and bloggers.
We made pitches to multiple media outlets in the Lansing area to increase visibility for the science center with potential visitors, as well as to gain positive media attention for sponsors. We also researched and reached out to Michigan-based Mommy bloggers with a personal invitation to the event to provide a different avenue for visibility with Impression 5's target audiences, as well as compensate for the decrease in media outlets in our market.
Instead of doing a traditional ribbon cutting, we did a "boat launch" in one of the water tables inside the exhibit, featuring small sailboats with sponsor logos printed on the sails. This creative approach provided a great photo opportunity, and a unique keepsake for each sponsor. We met with sponsors in advance to understand their communication goals and, as a result, created a program booklet that not only included the schedule of events, but also stories and interviews with the sponsors to build a connection and share their priorities. We also created customized invitations for each sponsor to distribute to their stakeholders, and we drafted social media copy for sponsors to push out on the day of the event, proudly proclaiming their support of the project.
To prevent the general public from seeing the exhibit before it was unveiled, we covered the outside windows with large panels of blue fabric that would be ripped down when it came time for the crowd to enter. To assist with this, we enlisted the help of the Curious Crew, a group of kids who appear on a local television program that takes a hands-on approach to scientific exploration. We also placed the kids throughout the exhibit to be playing with the many interactive components that FLOW offers when the curtains dropped for the reveal. Not only would this gain us coverage on WKAR, the local PBS station where the Curious Crew program airs, but would activate the space and give people a glimpse of the fun that their kids would have when visiting Impression 5.
To build anticipation of the reveal, we covered the entrance of the exhibit with white flowing fabric and projected blue moving lighting on it. Behind the curtains, you could hear the faint sounds of water gurgling and splashing which created even more intrigue. Last but not least, during the program featuring sponsors and speakers, we surprised long-time board chair Noah Smith with a dedication and commissioned painting to celebrate his legacy with the science center, culminating in the unveiling of FLOW.
The impact
Seven pieces of coverage were published, reaching 11,900 potential visitors to the science center. A readership of 620,000 was reached through 13 media outlets and bloggers, with nine on-site interviews featuring staff and sponsors. Three bloggers covered FLOW as of July 18, 2017, resulting in a reach of more than 5,600 people. Through social media, more than 84,100 people were reached on Twitter, 10,500 on Facebook and 11,000 on Instagram.
The event was standing room only, with approximately 225 attendees resulting in significant social and traditional media engagement. There were at least 38 sponsor-related tweets, including those from Brian Wheeler, Chris Thelen and Carolyn Bloodworth from Consumers Energy Foundation; Robert Darmanin and Jen Sturdy from PNC Foundation; as well as the Rotary Club of Lansing and Michigan Economic Development Corporation (Michigan Council of Arts and Cultural Affairs).
Following an exciting program of presentations from partners and stakeholders, it was finally time for the big reveal. After a countdown from the audience, the curtains were opened to reveal the culmination of years of dreaming, planning and hard work. Clearly exceeding expectations, the unveiling was met with loud cheers and applause from attendees. Faces lit up as people made their way into the exhibit and began to participate in the activities. The space was buzzing with excitement as media representatives and attendees were snapping photos and video of the much-anticipated addition to our community.
Testimonials
Erik Larson, Executive Director of Impression 5, shared: "Piper & Gold did a masterful job of handling event logistics. But, most importantly, their work to create storytelling opportunities for community partners involved in the project was truly amazing. The process allowed for a very strong connection for our funders. They came away with clarity about why they were participating in the project and an eagerness to continue working with Impression 5. Well done, P&G!"
As of the end of December 2017, Impression 5 has served 68,269 guests. Compared to the previous year, that's an increase of more than 4,000 guests!