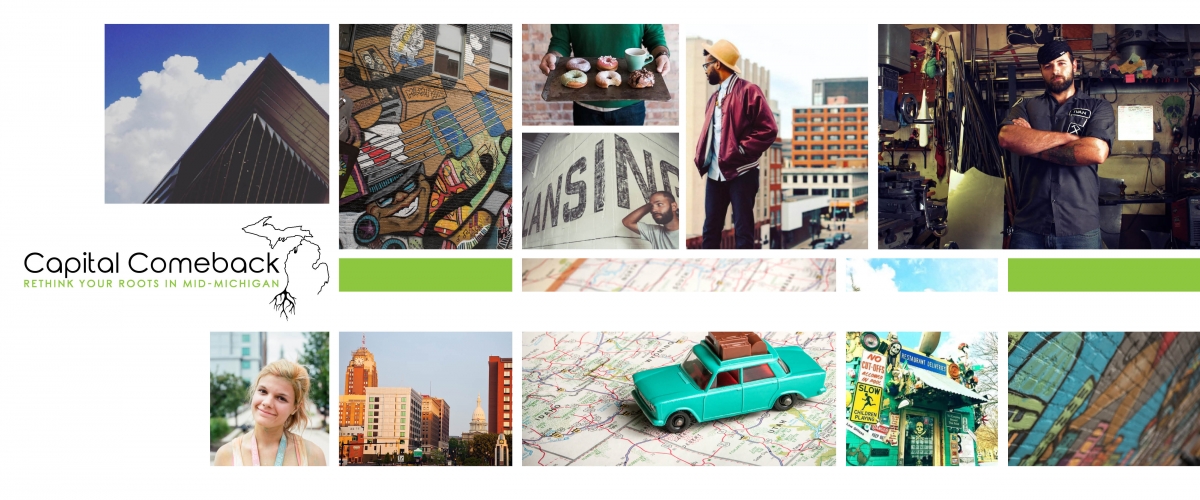 With Thanksgiving approaching, we can't help but think back to the fun opportunity we had last year to help turn the biggest bar night of the year into a successful talent attraction event right here in #LoveLansing. In this installment of Beyond the Bling, we're looking back at Capital Comeback 2016, and boy, are we grateful!
Clients: Capital Area Michigan Works! and Capital Area IT Council
Campaign: Engaging with former Mid-Michigan residents to attract them to move home to the region they know and love.
Snapshot
Lansing. A community that is small enough to run into a friend walking down the street and large enough to pass a stranger offering the signature Midwestern friendly 'Hello.' Despite this, years of economic turmoil and recession have driven young pros elsewhere for jobs and lifestyle.
That's where the idea of Capital Comeback came into play – a talent attraction and contemporary networking event held the night before Thanksgiving. Capital Comeback provided an opportunity for young professionals in town visiting family to experience the dynamic urban job and living opportunities in the reinvigorated capital region. The event connected former locals with Mid-Michigan's brightest employers at the Eli and Edythe Broad Art Museum, a stunning new structure that embodies the changes that have taken place in the region since they left the state.
As an existing client of Piper & Gold Public Relations, Capital Area Michigan Works! and the Capital Area IT Council enlisted P&G to execute communications for the event and recruit participants through media relations, community outreach and a social media campaign, forging the way for former Michiganders to come home and contribute to the revitalization of #lovelansing.
The Mid-Michigan economy has an abundance of high-wage, high-demand jobs in STEAM (science, technology, engineering, art and math) fields, and the brightest employers in the region are eager to fill positions. CAITC finds there are consistently 500+ IT openings at any given time in the tri-county area. Often, there are upwards of 900 jobs available in the capital region according to CAMW!. With Michigan State University just five miles away, Lansing has access to 50,000 undergraduate students each year. Attracting talent to Lansing has been a major challenge for years. Recognizing the need for an innovative solution, talent development leaders in Mid-Michigan created Capital Comeback as a new approach to attracting talent.
But young talent is moving away after graduation to other urban meccas. According to MSU, 38 percent of college graduates move out-of-state. The number of students who stay in the East Lansing/Lansing area is even smaller, with just 18 percent of MSU working graduates staying after graduation in 2015, according to the State of STEAM Report by Teach. Talent. Thrive., a local talent-focused nonprofit. And partners of Capital Comeback wanted to change this.
Greater Lansing is home to a global economy and prestigious national headquarters, including Jackson National Life Insurance Company, Dart Container Corp. and General Motors. These opportunities allow young professionals to make a big impact in Mid-Michigan early on in their careers. And, the cost of living in Lansing is far below neighboring cities. According to the United States Census Bureau, the median home value is $79,000 in Lansing and $174,000 in East Lansing — a fraction of what it costs to live in other Michigan cities like Ann Arbor, where the median home value is $231,000.
Enter Capital Comeback: An opportunity to wine and dine an intimate group of highly educated, highly skilled, highly mobile professionals with a connection to the region and show them how – and why – they fit in here. But Capital Comeback was about more than just those who attended in person. It was an opportunity to identify and connect with individuals looking to return and direct them toward hiring employers, Virtual Career Fairs and regional assets to ultimately grow the region's talent base.
Strategy & planning
The why: To create engagement and awareness about the need to attract talent to move back to Mid-Michigan to propel the region forward.
To recruit attendees to Capital Comeback, P&G called on our professional networks to collect stories of those who left the region after high school or college and later CHOSE to return. These individuals served as #lovelansing enthusiasts, providing a humanizing element to the event and a compelling media hook. P&G developed, packaged and pitched these stories to various media outlets in Greater Lansing and statewide with great success.
With MSU's global network of 500,000 Spartan alumni, there was a significant opportunity to reach these individuals through the vast network of social media. The team also compiled a list of more than 60 Greater Lansing alumni associations, community organizations and non-traditional media outlets to share the news of Capital Comeback.
And a vital piece of reaching Spartan alumni? The Michigan State University Alumni Association. Along with leadership from Capital Comeback, P&G pitched the movement to the MSU Alumni Association. Coupled with other alumni associations and organizations, we were able to spread the word to thousands of folks potentially coming back to the region for the Thanksgiving holiday.
Media relations and digital media
The power of social networking sites didn't go unnoticed when it came to spreading the word about Capital Comeback, either. Paired with modern images of Lansing, social media played a significant role in recruiting attendees.
An Eventbrite page collected registrations, and a Facebook event provided updates for folks who were interested.
A social media campaign surrounding #lovelansing enthusiasts highlighted in their own words why they love Lansing and chose to return.
A $500 budget allocated to social media advertising targeting individuals who had ties to MSU and Greater Lansing. The social media content was leveraged by the dozens of event partners and employers to help promote and highlight the region.
The Impact
More than 130 individuals from outside the region requested more information through the Eventbrite registration, with nearly 50 job seekers spending the night before Thanksgiving with 11 employers and two dozen #lovelansing enthusiasts – young professionals on hand to welcome guests, make them feel comfortable, and share their experiences and local favorites.
Beyond the physical event, Capital Comeback provided a remarkable opportunity to connect with parents, friends and families of former Michiganders to spread the word about job opportunities in the Mitten. Capital Comeback was mentioned in 10 media outlets that produced 11 stories.
The Lansing State Journal: the regions' daily newspaper that reaches more than 365,000 Michiganders.
WILX: an NBC affiliate that reaches nearly 98 percent of all households in Greater Lansing.
Michigan Business Network: a streaming internet radio with a podcast/blog post library that reaches business executives.
WKAR: a National Public Radio member station that reaches more than 53,000 listeners weekly.
An op-ed in the Lansing State Journal by a #lovelansing enthusiast, detailing why Lansing is so near-and-dear to her heart.
A special report in Capital Gains, which took readers through the journey of the urban living and job opportunities in Lansing. These stories utilized the perspectives of our Lansing enthusiasts, employer sponsors and members of the Capital Comeback planning team, and reinforced the key message of the dramatic transformation of Lansing.
News of the event was shared with more than 60 alumni organizations and nontraditional media groups. As a result of pitching, the MSU Alumni Association distributed information about Capital Comeback to a refined and targeted list of more than 23,000 Spartan alumni. Other groups that shared Capital Comeback with their audiences included: 
Social media played a key role in reaching those with connections in Greater Lansing. With the help of Facebook's targeting tools, the team reached individuals who have either been to Lansing recently or have an interest in MSU. Through social media advertising, the team reached 60,000 individuals and earned 828 engagements in Greater Lansing, Chicago, Washington D.C., New York City, Cincinnati and Indianapolis – all of which have a strong network of Spartans.
The ultimate measure of success will be whether or not people return to the region for employment, and it won't be a quick fix. CAITC and CAMW! are working closely with employers to track new hires as a result of Capital Comeback and the other highlighted avenues for attracting talent back to Lansing. And yet, in the eyes of event organizers, sponsors, participating employers and attendees, the first year of Capital Comeback was one for the books.
Testimonials
"I moved to Flint a few years ago. When I told my mom I was coming home for Thanksgiving, she encouraged me to check out Capital Comeback. I'm excited to talk to employers and see if moving back to Lansing is the right fit for me. By the looks of it, a lot has changed for the better!" – Capital Comeback attendee
"Capital Comeback was an amazing collaboration of local businesses and councils coming together to showcase the capital area and the great employers and culture we have. We all worked side by side to create a welcoming casual environment for a peer-to-peer connection to learn about the incredible personal and professional opportunities this area has to offer. We learned a lot from it and are already getting started on next year." Said Taiym from AF Group, a title sponsor of the event and board president of the CAITC.
Future plans
This year, Lansing 5:01 is spearheading the event to showcase diverse employers beyond the IT industry, as well as the urban living and entertainment opportunities our region offers.
Capital Area Michigan Works! and the Capital Area IT Council are eager to continue to support talent attraction and retention events in Greater Lansing. It is critical to our future. For more information or to register for Capital Comeback, please visit: http://www.lansing501.com/capitalcomeback.html.