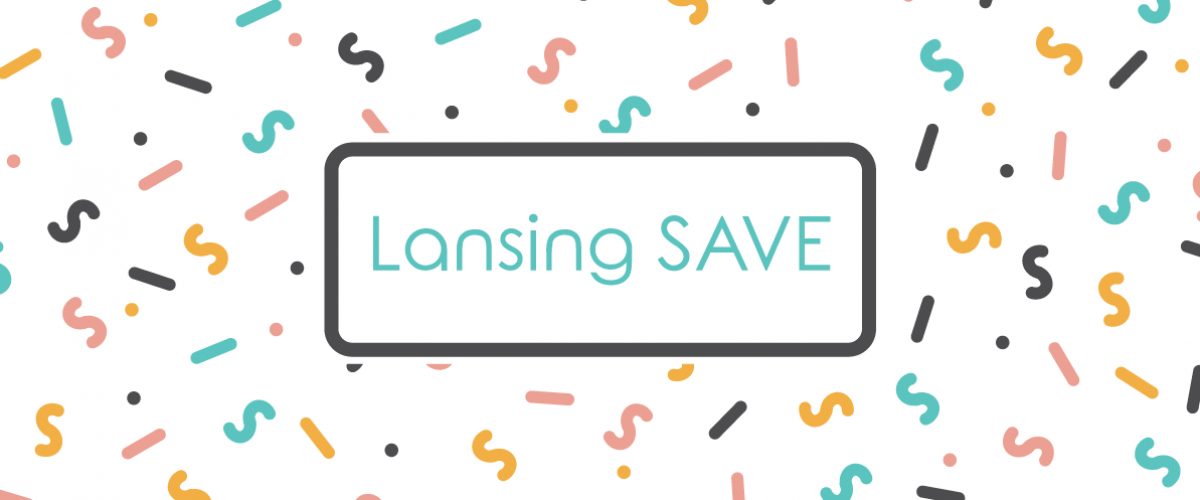 When you think about saving money, the last person you would consider to be a good saver is a kindergartener. We — and the City of Lansing — think otherwise. As a part of #EmbraceNumbers, we are talking about the Lansing SAVE Focus Group we developed and facilitated to not only increase participation in the City of Lansing's children's saving account program, Lansing SAVE, but help develop a sense of security and successful future for the children of Lansing. 
Project: Lansing SAVE Focus Groups   
Client: Lansing SAVE  
Awards:  
Snapshot 
The City of Lansing's children's saving account program, Student Accounts Valuing Education, or Lansing SAVE, is for students who start kindergarten in the Lansing School District. Students are automatically enrolled in an account with Michigan State University Federal Credit Union in the fall. Families can contribute money throughout elementary, middle and high school at any MSUFCU branch. Students may use their Lansing SAVE accounts after graduation to continue their education, by attending college, community college or enrolling in a skilled trades training program. Because of the nature of the program and limited staff capacity, Lansing SAVE had a bit of an identity crisis as well as communications challenges to overcome. 
P&G conducted two sets of focus groups, with the goal of understanding what families need to make saving successful and informing critical key messaging for the Lansing SAVE program, as well as programmatic recommendations taken from participant input. 
Execution 
The original goals of the Lansing SAVE FISCL (Financial Inclusion Systems in City Leadership) Project were to: 
Increase private participation in Lansing SAVE accounts (measured through family deposits) from 8.99% to 30%. 
Increase participation by SAVE parents and guardians in free financial counseling offered by the City's Financial Empowerment Center from 3.5% to 20%. 
Attend Lansing SAVE Night (annual information event) and give feedback regarding ways to improve it. 
​Hold focus groups to help us better understand their Lansing SAVE experiences, expectations, concerns and wishes. 
As of September 2018, private participation is up to 26%. Lansing SAVE credits this to unique reminders, which came directly from Piper & Gold recommendations, as well as better messaging about the program, provided by the P&G analysis. Between December 2016 and May 2017, there was a total of $1,551.98 in deposits, compared to $5,746.37 collected between December 2017 and May 2018. 
Research shows that students who engage with their SAVE accounts are 3 times more likely to attend post-secondary education than their peers who do not save. SAVE helps children and teenagers visual a future for themselves that includes education and training beyond high school. Invest in children now, it will have a positive impact later in their lives. 
"The city of Lansing and the Office of Financial Empowerment team are so glad we chose Piper & Gold as our partner for the FISCL project," said Amber Paxton, director of the city's financial empowerment office. "Their sound recommendations have helped us vastly increase participation in Lansing SAVE as measured through family deposits... Every new deposit means we are moving the needle on post-secondary achievement, building the opportunity for a strong workforce. We believe that economic development starts at the household level, and Lansing SAVE is one way we invest in that belief." 
Here's a look inside the report results!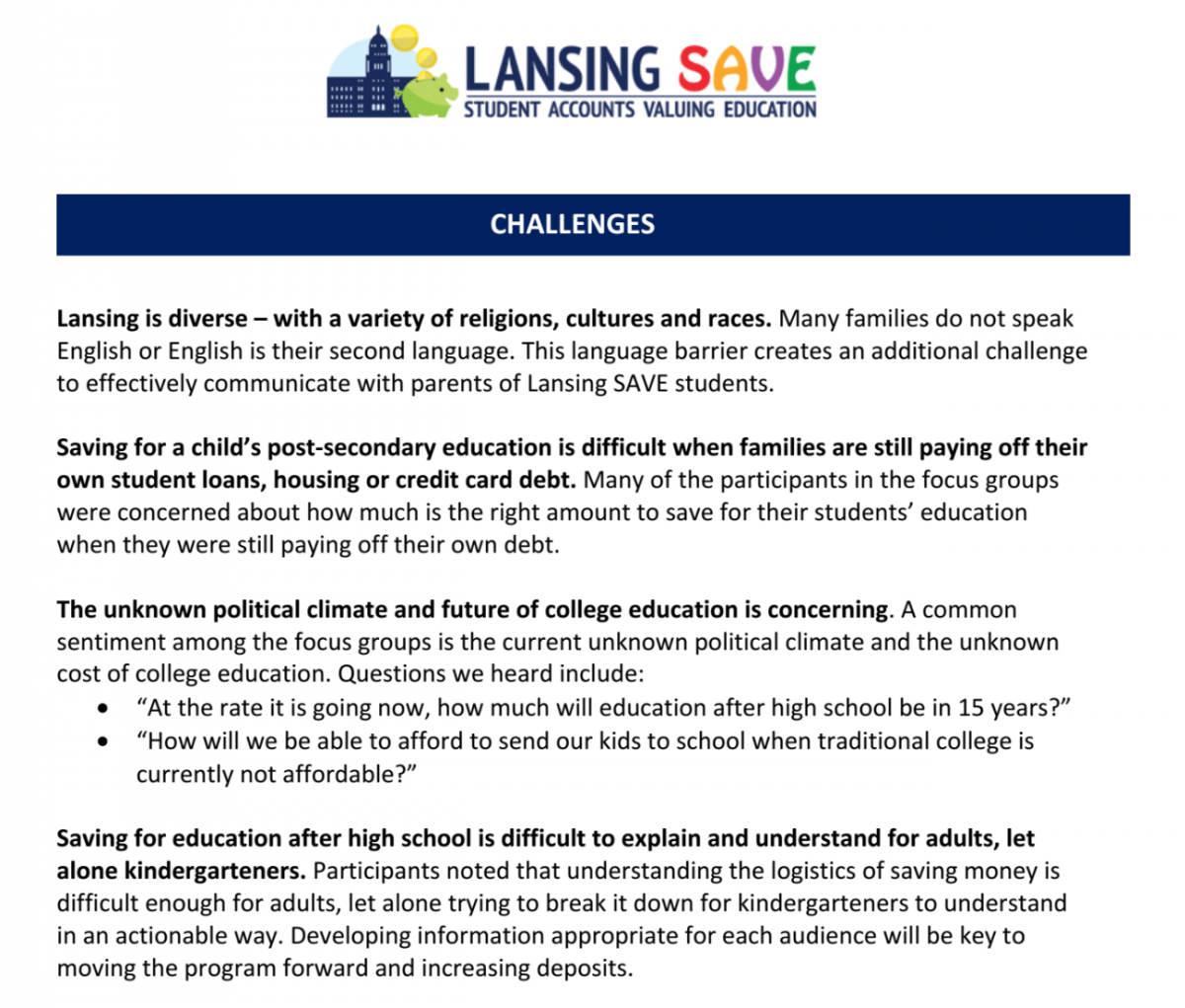 Helping our clients identify challenges is critical to finding realistic solutions.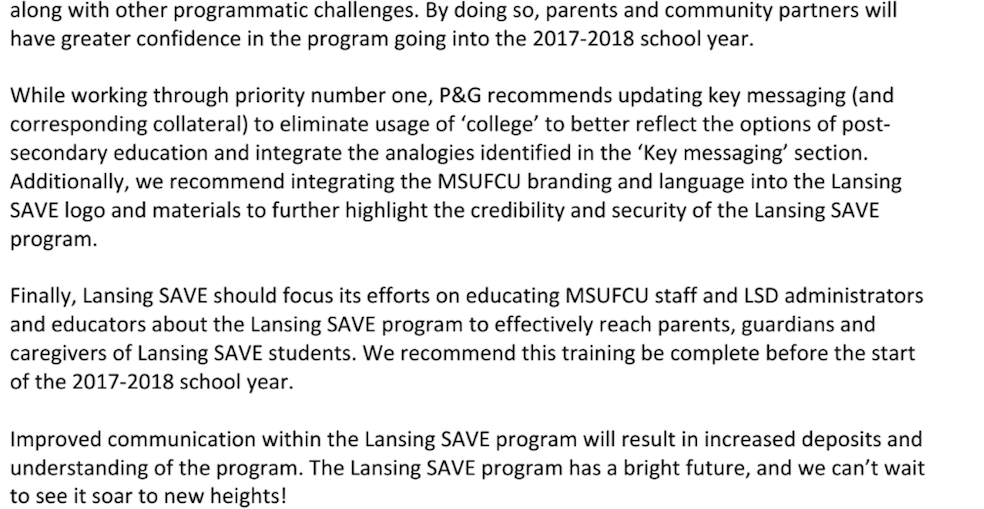 In many projects, P&G helps our clients prioritize what can be daunting to-do lists, and in a way that focuses on efficiency, effectiveness and long-term benefits.