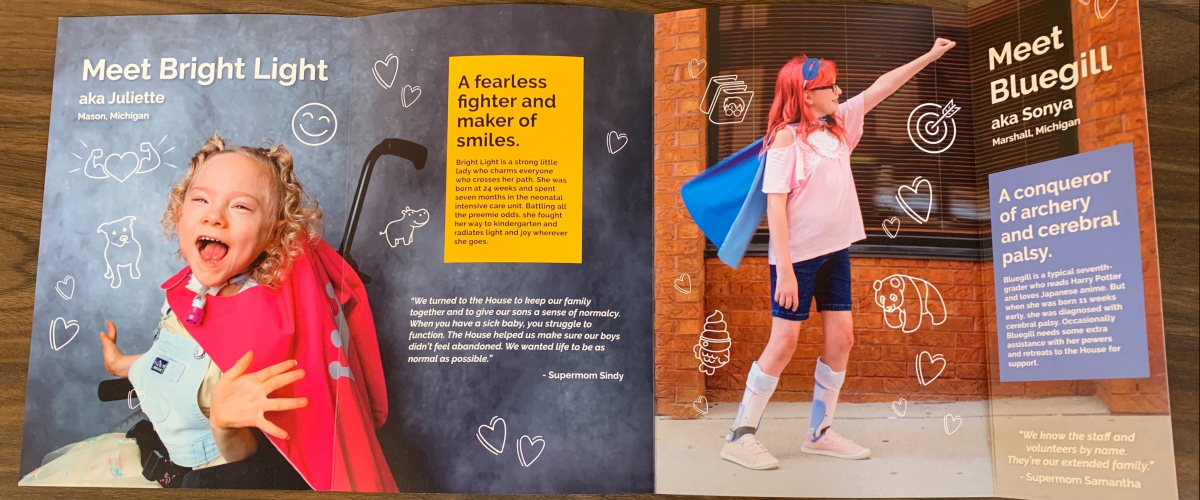 It's been a while since we've done a Beyond the Bling post, but we've kept on winning that amazing, validating hardware in the meantime. And today, we're taking a look back at one of the most award-winning campaigns we've ever had the privilege of creating.  
Just last week at the Central Michigan Chapter of the Public Relations Society of America 2019 PACE Awards celebration, it took home BOTH of the People's Choice Awards, along with a Pinnacle Award and an Award of Excellence. 
The Ronald McDonald House of Mid-Michigan Lend-A-Hand campaign is a project that just might live at the top of our hearts — and at the top of our award lists — for a long, long time.   
Client: Ronald McDonald House of Mid-Michigan 
Campaign: Ronald McDonald House of Mid-Michigan: Even superheroes need a support system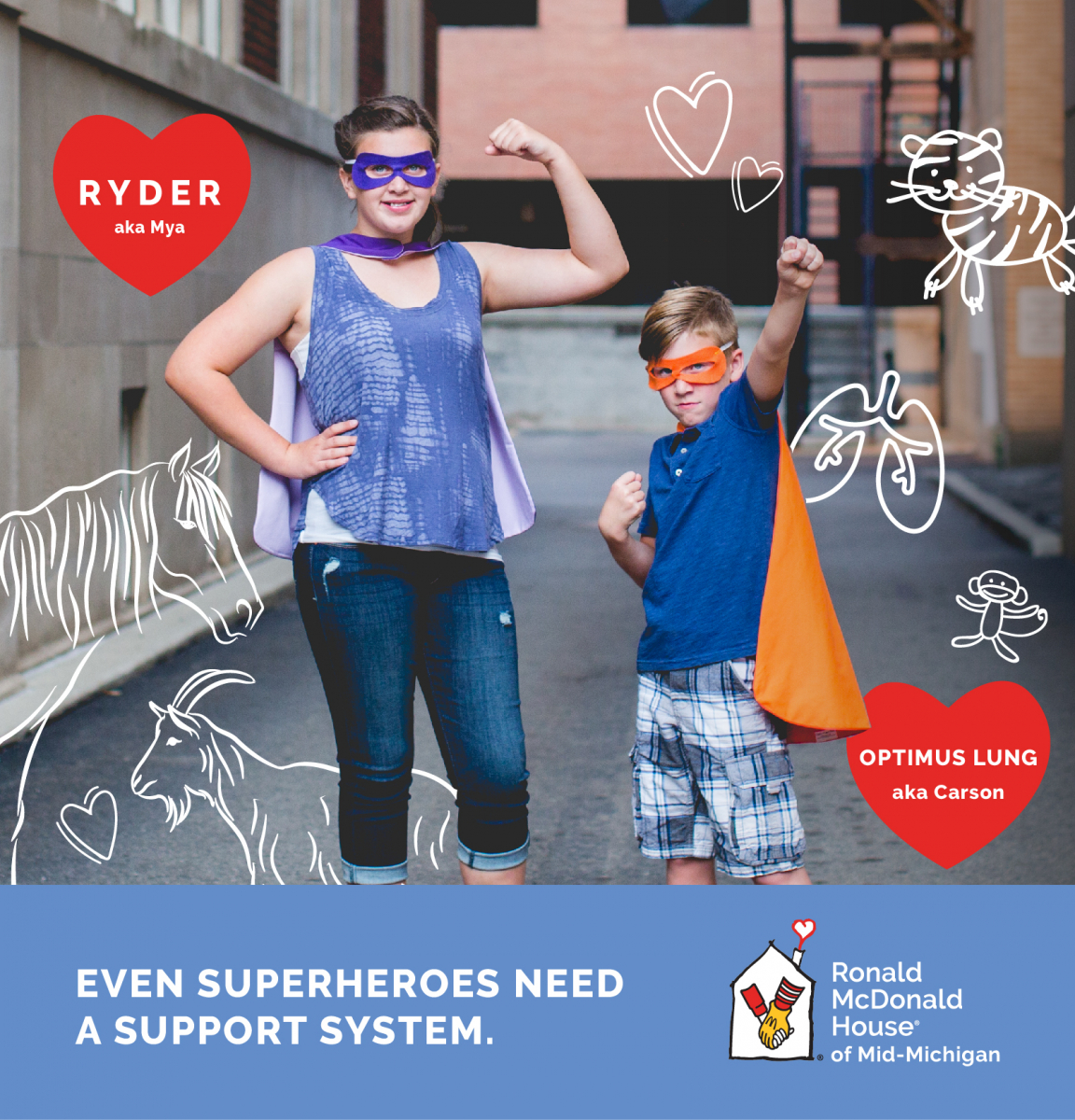 Snapshot 
At the Ronald McDonald House of Mid-Michigan sits a yellow Beanie Baby bear with a little red heart wearing a preemie diaper rolled over its plump little belly. When visitors cradle the bear in the palm of their hands, they can just barely begin to grasp what it must be like for their baby to sit in the palm of their hand. Over 90% of families staying at the Ronald McDonald House of Mid-Michigan are there while their preemie babies are being cared for in hospital NICUs — except many of those babies can't be held in the palm of their mother's hand because they're hooked up to machines, with tubes, wires, beeps and blips surrounding them in a seemingly chaotic work of art that keeps them alive.   
So, it's easy to see why stories about parents' experiences often start from a place of stress, crisis or trauma — sometimes all three. And for years, that's how we told the House's story. For the House's 2018 annual year-end fundraising appeal, it was time for a change. The goal went beyond fundraising to increasing the visibility and exposure of the House. We chose an approach geared as much toward social media shares as raising money. And we told stories from a place of strength and celebration, ultimately showcasing these little warriors as the superheroes they truly are.  
Research/Background 
Chronological stories about critically ill newborns and children are the norm for nonprofits such as the Ronald McDonald House, and, frankly, they're often hard to distinguish from one organization to the next in that construct. Working closely with the House team, we identified four families whose five children were the heroes of their own stories, and we flipped the narrative to showcase them as superheroes, celebrating their strengths and where they are today.   
We researched a number of other nonprofit campaigns that showcased premature births to analyze their successes, but also to ensure we weren't simply doing something that had already been done <think: photos of healthy smiling children holding their preemie photos>. A series of four initial concepts (we just couldn't choose) were narrowed down to the final superhero theme. To capture the stories and create authentic superhero personas, interviews were conducted with each child and their parents.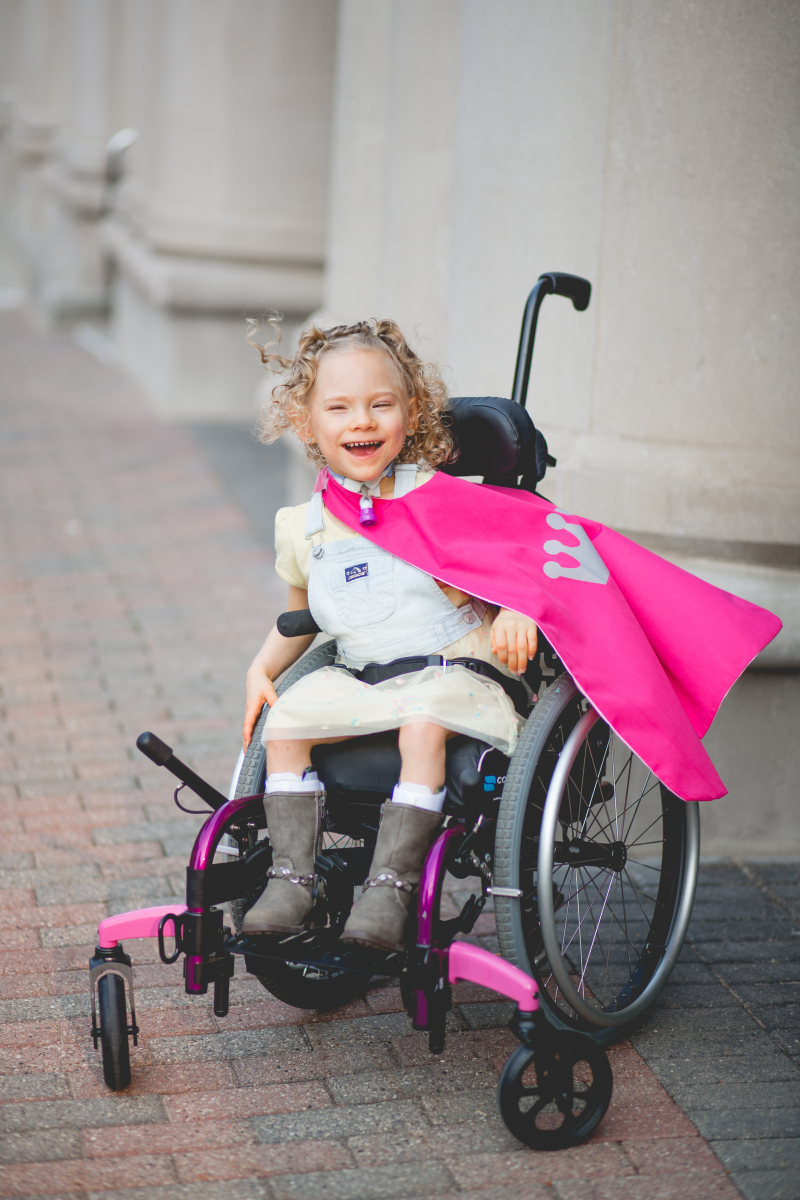 Planning 
We targeted existing House donors and supporters, reviewing and expanding the postal and email lists to include all donors, event participants, volunteers, families and corporate partners. But that wasn't enough for our superheroes. These kiddos deserved all the channels their secret lair – the House – had at its disposal: the traditional direct mail appeal with an insert and remittance envelope, website stories showcasing each superhero, social media, billboards, email and media relations. That broad range of options gave us the channels needed to increase the visibility and exposure of the House.  
Rather than timing the campaign to only run around Thanksgiving and Giving Tuesday as had become tradition, we expanded the strategy to encompass the entire month of November, tying into the supremely relevant Prematurity Awareness Month and giving each superhero story the time and attention it deserved. Each week was dedicated to one (or two, in the case of our sibling supers) of the five superheroes featured in the campaign, highlighting the distance they traveled, the challenges they faced and the superpowers they gained thanks to the support their families received from the House.  
Particularly because this campaign's sole purpose wasn't to raise money, but rather to raise visibility and awareness, we were free to step away from the predictable before-and-after story construction to catch the attention of a broader audience. We leveraged the popularity of superheroes to increase the visibility of the House and its work with the concept "Even superheroes need a support system."  

Execution 
Creative inspiration for the campaign centered around portraying the kids as the superheroes in their own stories, focusing on their strength, power and individuality as well as celebrating who they have become since they began their journeys a bit early as premature babies. Each child featured was given a superhero identity based on their interests, a web story was written highlighting their family's unique experience, and custom illustrated graphics represented their superhero and alias selves. Stories also featured the support families received from the House, in turn benefitting each of the superheroes.  
The foundation of the traditional Lend-A-Hand year-end appeal always had been a postal mail card telling the story of a family, along with a donation envelope. The idea to "do more" with the mailer is what inspired the entire campaign, and the 2018 mailer served as the cornerstone. The design and mailing lists were expanded to share more, educate, inspire and, ultimately, reach more people. The mailing list was increased by 11.5% — from 5,451 to 6,080 — to ensure all new and previous donors received the piece, as well as including a new audience of service groups.   
In previous years, the annual appeal shared one family story, and the email blast would point people to one page of stories and the donation page. For the superheroes campaign, we introduced a wholly new element of storytelling through new individual pages on the website for each superhero, which gave us an additional opportunity to gain and measure exposure.  
Evaluation 
During November 2018, the results over 2017 were significant:  
Unique page views on the site increased by 186%, from 1,663 to 3,099.  

Sessions on the site increased 203%, from 1,055 to 2,150.  
Total users increased 330%, from 326 to 1,076.  

Total page views of the individual stories and families page totaled 856, an astounding   
2,447% increase over just 35 page views to the general page promoted in 2017.  

Additionally, the page views to the donations page increased from 39 in 2017 to 51.  
According to Rival IQ's 2018 Social Media Industry Benchmark Report, nonprofits should strive for a 0.17% engagement rate per post on Facebook and 0.055% engagement rate on Twitter. Our supers soared above the averages. The campaign's Facebook engagement rate was 3.032%;  Twitter engagement was 20%. Though earned media wasn't a large part of the effort, pitches were made to local media in the superfamilies' hometowns, and multiple outlets showcased their local families, including Lansing's Fox 47 and The Owosso Argus Press.   
Supermom Ashlie loved her photos of Ryder and Optimus Lung so much, she had them turned into canvases to hang in their home. But perhaps the coolest and most significant earned exposure was the attention of Mina Oh, a YouTube sensation who also happens to be a favorite of Superhero Bluegill (aka Sonya). She read Sonya's story online and later connected directly with Sonya and her family, allowing Sonya to meet one of HER heroes.  
Additionally, it's worth noting:  
In 2018, the average campaign donation was $104.95, nearly an $11.32 increase per donation compared to 2017.  

More than 34% of 2018 campaign donors hadn't donated in a year or more.  

19% of 2018 campaign donors made contributions to the House in the past (in-kind or monetary), but this was their first Lend-A-Hand donation ever.  

And small-but-mighty (like Night Owl), Lend-A-Hand attracted 10 new donors who saw the campaign on social media or were referred (and inspired) by other donors.   
Though the primary goal of the campaign was awareness and visibility, not donations, these metrics still demonstrate the powerful messaging of this campaign successfully compelled donors who hadn't donated in the past year or more to give this year AND for the average, individual donor to increase their gift amount. The power of our superheroes clearly touched donors and the community.  
But perhaps what means the most to us is what the campaign meant to our amazing clients and friends at the House. 
 "The outcome is an outstanding success for the Ronald McDonald House of Mid-Michigan," said Executive Director Carolyn Hurst. "This has been an opportunity for the House to allow people to better understand that supporting families of ill children staying at the House is not frightening or sad, it's full of joy and strength. This campaign is an exceptional example of the service provided to families 365 days a year at the Ronald McDonald House of Mid-Michigan."