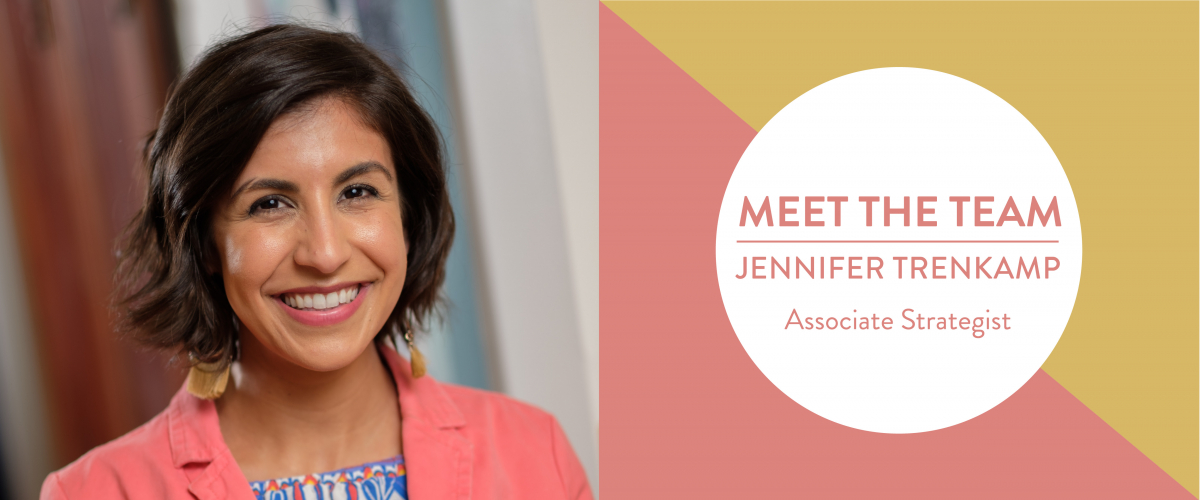 Meet the Team: Jennifer Trenkamp, Associate Strategist
Sep 23, 2019
Services: Writing
We're thrilled to welcome to the P&G family our newest team member: Jennifer Trenkamp.
Jennifer Trenkamp is a master at making order out of chaos. As Associate Strategist for Piper & Gold Public Relations, she approaches her communications work as if she were a contestant on "Chopped." The basket of items in front of her may not look cohesive, but she's driven to make them work together.
Jen is a helper. Her mission is to find a way – there are no dead ends on her path – and to make life easier for P&G's clients.
Before joining P&G, Jen led digital marketing for the Strategic Communication Online Master's Program at Michigan State University, creating a consistent look and feel for its digital properties and growing its social channels. Oh, and she earned that master's degree herself as well, in addition to her bachelor's in journalism from MSU.
Jen loves being part of a team, focused on a common goal. Giving her all to create something awesome gives her work meaning, authenticity and power. She believes pretty much anything can be achieved with respect and hard work.
Off the clock, Jen loves cooking and baking up new recipes, searching for the perfect cup of coffee and being around family and friends. She and her husband, Tom, live in East Lansing.
Notable results:
Led and project-managed the Great State Road Trip, a three-week adventure around Michigan highlighting MSU's work that positively impacted the state.
Co-produced "Your Tomorrow," a video for MSU's fall 2016 welcome back package meant to inspire and excite new and returning students. Helped land NPR's Don Gonyea to narrate the video.
Recruited some of MSU StratCom's largest student cohorts and promoted the award-winning program as a leader in online, professional master's degrees.
Want to get to know Jen even better? Hit up our Instagram on Wednesday, September 25 for Jen's official Ask Me Anything.